NFC 3-Stroke Configuration
With TapNLink NFC modules, appliance manufacturers improve users' experiences by making it easier to connect mobiles to products, view their configurations and make changes to them. TapNLink NFC 3-Stroke configuration is an intuitive and secure way to do this.
With NFC 3-Stroke configuration, users personalize even the most complex configurations easily by:
1st -  Approaching the mobile to the appliance: With one simple gesture, they open a connection, read the actual configuration and launch the appropriate app.
2nd - Viewing and changing settings in a mobile app: Mobile apps are familiar to all users. They provide graphical display and intuitive tactile control of configuration settings.
3rd - Approaching the mobile to the appliance again: This automatically transfers their new configuration to the appliance. This new configuration, stored on the mobile phone can also be used to configure multiple appliances rapidly and efficiently.
TapNLink is currently used in heating appliances, providing NFC 3-Stroke configuration to gain efficiency in installation and user configuration. Learn more in this video... 
---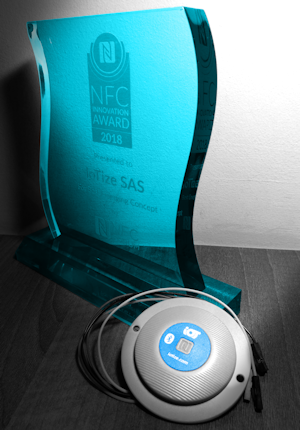 Award Winning Innovation
TapNLink NFC 3-Stroke configuration is an NFC Forum award winning technique for using NFC in any appliances or equipment that require periodic configuration. Read more...
NFC is also present in TapNLink Bluetooth and Wi-Fi modules to wake up and pair the connection these other wireless channels. Read more...
---
Get NFC Products Here...