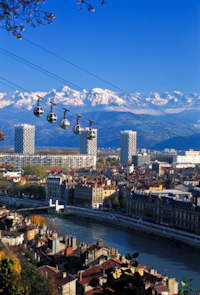 IoTize SAS is headquartered in the Inovallée in the Grenoble metropolitan area. Situated in the French Alps, Grenoble is an international center for research and development in the areas of digital, wireless, microelectronic and nano technologies that are all essential components of the Internet of Things (IoT).
The IoTize R&D team works with industry leading partners in microelectronics and digital security to provide our customers with a turn-key solution that dramatically reduces the risks, and costs associated with migrating existing electronic systems to the IoT. This collaboration with STMicroelectronics and Gemalto won the support of regional and national R&D funding agencies, resulting the delivery of our award-winning solution.
IoTize capital investment is largely committed to developing and expanding our expertise in the areas of IoT security and Cloud integration and wireless optimization. The IoTize wireless solution leverages technologies from its subsidiary activity - Raisonance microcontroller application development tools.