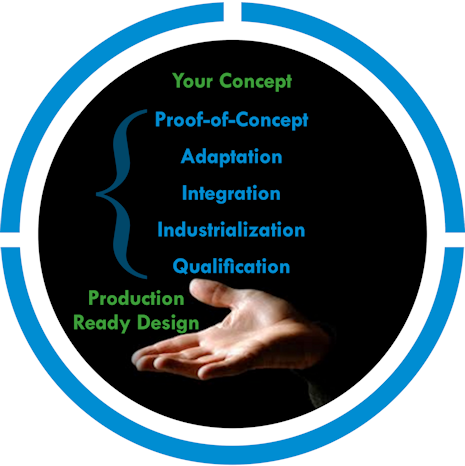 Integrating wireless or mobile HMI apps in your products? IoTize accelerates your projects to deployment with expert services and qualified technologies.
With our IoT solution and expertise in embedded systems, wireless, security, mobiles and cloud, IoTize can manage your project from proof-of-concept to production-ready design. The ease-of integration and adaptability of our solution and products will dramatically reduced the time-to-market of your connected products and maximum your return-on-investment.
Our engineering services include:
Wireless integration
Cloud platform integration
We leverage our hardware / software solution for all services so that your projects benefit from pre-implmented, tested features (communications, security, access control, mobile device managment, mobile app generation, networking and cloud integration, ...). Our approach reduces design effort by a factor of 10 and thus shortens time-to-market for your connected products. This allows you to deploy new products faster so that you don't miss new market opportunities.
Contact us for more information.
They Place Their Confidence in IoTize
IoTize expertise is the result of a history of working with industry leading partners and customers including: 
Schneider Electric: NFC, Bluetooth, Wi-Fi for connection of mobiles to industrial systems.
STMicroelectronics: Integrated solutions for STM32. Firmware development, updating and programming. Design and industrialization.
Gemalto: Security integration for embedded systems and mobiles in the IoT.
IoTize masters both the technologies and the processes that accelerate design, integration, qualification and industrialization.