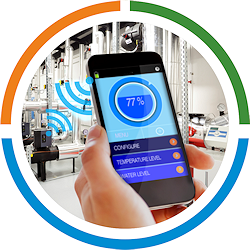 Need mobile HMI apps? Our solution and expertise provide us the flexibility and efficiency to adapt mobile apps, to your specifications, rapidly.
IoTize tools and products simplify mobile app creation. A single click in our IoTize Studio configuration environment generates a mobile app that is dedicated to a TapNLink configuration for your system or equipment.
However, adding specific functionalities to these apps can present difficulties for companies that lack the necessary expertise. Thanks to the advantages of our TapNLink solution, IoTize offers app design services at the lowest cost. Services include:
Creation of Proofs-of-Concept for existing electronic systems
Design support from app generation to publication
Adaptation of apps based on your specification
Maintenance of your apps after deployment 
In each of these areas, the abundant features and controls of our solution allow our engineers to be particularly efficient.
Contact us to tell us about your design needs and challenges.