IoT App Creator - The No Code Advanced HMI Solution
Create professional, smartphone-based human machine interfaces rapidly for any connected system or product.
Thanks to IoT App Creator's WYSIWYG interface and drag-and-drop approach, anyone can create highly-refined, professional human-machine interfaces as mobile apps literally in just minutes. IoT App Creator offers unprecedented ease-of-use and flexibility in HMI layout, style and functionality. This works for embedded systems and industrial equipment using any IoTize wireless module or industrial fieldbus-wireless adapter. See how it works in the demonstration video below.

About this Demo Video...
Creating professional user interfaces for electronics has never been easier than with IoT App Creator. Designers simply import information about the target system, which they want to access from the HMI. Instantly they see target data in the Creator's Dashboard Editor.
Our Dashboard Editor allows them to rapidly build their HMI with its WYSIWY, drag-and-drop approach. It offers pre-implemented components for buttons, switches, sliders, graphs, gauges. It has everything you need for viewing complex data and controlling complex system parameters. 
It is also remarkably flexible. Its Data Flow Editor allows you to create advanced data handling functions with constants, triggers, inline code, mathematical and logical functions and with full control of timing. Designers can even add their own plugins.
IoT App Creator supports users of all IoTize wireless products including: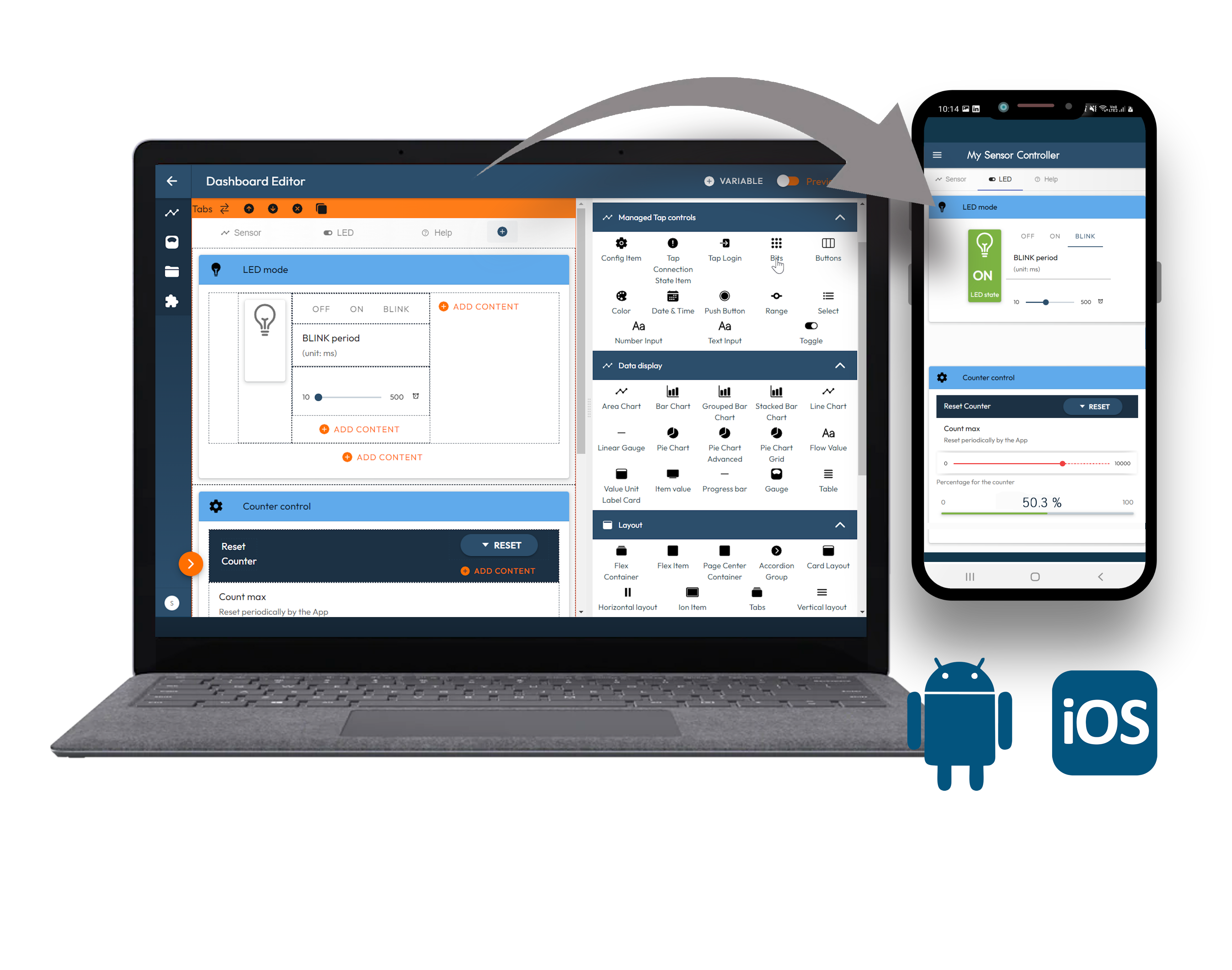 Products in this Demo...
Our no-code solution instantly adds secure wireless to any electronic design, accelerates the creation of HMI apps, and connection to cloud platforms. It reduces complex IoT projects to a simple process of connection and configuration.
The solution is founded on the embedded software of our wireless modules and devices, which pre-implements required in a connected design including security, data handling and communication protocols.
Plus, it is complemented by a complete software tool ecosystem with our IoT App Creator and automatic App Generator.
No matter if you're creating a new IoT product, or retrofitting deployed systems for the IoT, our wireless modules and devices are your gateways to easy IoT integration: