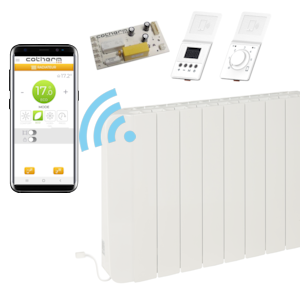 NFC for Heating Appliance Configuration
Faced with the challenge getting appliance owners to use increasingly complex, programmable energy-saving features, Cotherm turned to NFC 3-Stroke Configuration. This use of mobile apps and Near Field Communication (NFC) is an intuitive, efficient, and secure way to configure electric radiators as we can see in this video. Connection between the mobile and the appliance is effortless, with no lists of device connections and no pairing codes to enter. Apps provide a mobile Human-Machine Interface that is easy to understand and use without a user manual. This ease-of-use is a significant time-saver for installers. It also encourages owners to use energy-saving features.
Read more here...
NFC at Cotherm
WattFlex NFC-enhanced thermostats for electric space heaters and radiators...
IoTize NFC Modules
Products for rapid integration of NFC in sensors, sub-systems, and finished appliances...
Contact Us
Learn more about IoTize solutions and products through a personalized demonstration...