WattTap Appliance Energy Meter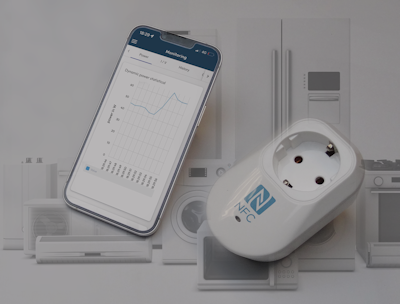 Precise, cost-effective energy metering for your appliances.
WattTap is a generic energy meter that can easily be added-on to any appliance. It connects to a smartphone app and provides energy consumption data for specific periods for any appliance. WattTap lets you see precisely where energy is consumed in your home and where you can make changes that have a meaningful impact on energy consumption and cost.

Secure, Wireless Meter
WattTap is an open hardware design that is based on the IoTize TapNLink wireless modules. It retrofits any appliance for energy metering by connecting directly to the mains power cord. It is designed for low-cost, low-power consumption and security.
Smartphone Connectivity
WattTap with Near Field Communication connects your smartphone with a simple tapping gesture. Data is stored only on the WattTap and on your phone. 
The IoTize supplied app provides visibility of hourly, weekly or monthly consumption of that appliance. It can even measure consumption during specific events (ex. while running a wash cycle).

Create Your Own App
Appliance owners can use the IoTize WattTap app or create their own metering apps. It takes just a few minutes with IoTize's Tap Manager app.
Users simply select the data they want to represent and the graphical representation. Everything is done directly on the mobile phone. No coding or expensive tools are required.