Hong Kong Electronics Trade Fair, Autumn '23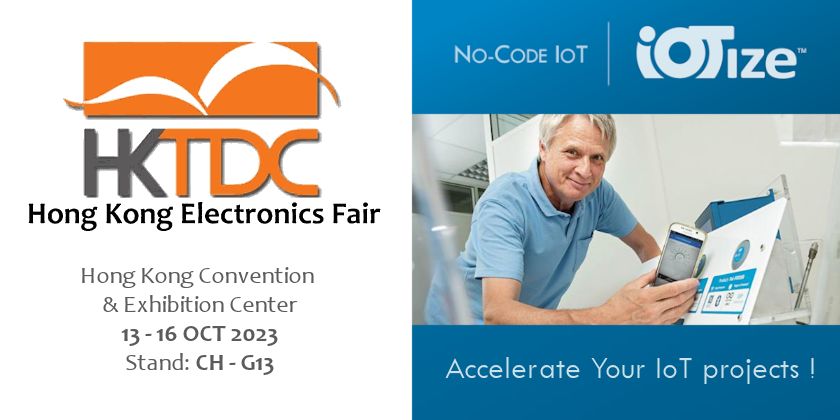 Try No-Code Connectivity for the IoT !
Are you an OEM for Appliances or Industrial Systems ?

With our Duetware solution, no coding is required to add a secure, fully optimized wireless interfaces to electronic designs. Our solution reduces integration to a simple process of Connection, Configuration and Test. Create your connected design with mobile or Cloud-based monitoring in just minutes!
Plus, this year discover IOT App Creator - our drag-and-drop, WYSIWYG environment for rapidly creating user interfaces for any electronic device... as mobile apps. IoT App Creator requires no coding, takes just minutes to master and creates apps for iOS and Android.
Try it at the HKTDC Hong Kong Electronics Trade Fair:
13 – 16 October
Stand:  CH - G13

Get your free show pass...
Just pre-register at the Hong Kong Electronics Trade Fair
Look forward to seeing you there!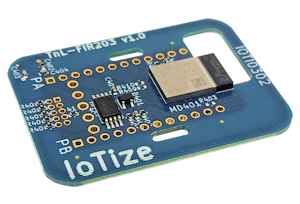 New STM32WB Bluetooth Modules Accelerate IoT Device Creation
´No-code´ solution and ´adaptable HMI apps´ reduce design effort and accelerate creation of IoT devices
Lyon, France, 14 September, 2022 -- Today at the Salon de l´internet des objets in Lyon (SIdO), IoTize SAS introduced its new TapNLink Bluetooth (BLE) wireless module and Adaptable HMI App. This TapNLink is the latest wireless device that benefits from the IoTize ´no code´ solution, which reduces the engineering effort for creating IoT devices by a factor of 10.
The new TapNLink featuring the STMicroelectronics STM32WB Bluetooth chip, can be added directly to any microcontroller-based electronic device or system. Integrating it with the system requires no coding. Designers just make two electrical connections and configure the TapNLink with information about the target system.
With TapNLink modules, designers benefit from a host of automation, security and data handling features that are pre-implemented in the module´s firmware. These include dynamic encryption, configurable access control and NFC automated pairing of Bluetooth devices. These features improve the security, ease and efficiency of using Bluetooth to connect smartphones to IoT devices.
This TapNLink module is also the first to benefit from IoTize´s Adaptable HMI App. This is a mobile app that vastly simplifies the creation of human machine interfaces for any STM32-based electronic device. To create the HMI, a designer uploads their firmware (ELF object file) in the app. This provides all the information required to access data in the target device. Directly in the app, the designer selects data and configures how it is accessed (read or write) and how it is represented graphically. No special tools, coding, or expertise are required to create a graphical user interface. The Adaptable HMI App is available for both Android and iOS. 
"This TapNLink and our Adaptable HMI App mark a crucial step in our quest to simplify and accelerate the creation of IoT devices," stated Francis Lamotte, President of IoTize. "With these introductions, IoTize is eliminating the expertise, effort and costly tools that used to be required – a crucial step in democratizing the IoT and making this market accessible to companies of all sizes, everywhere," he added.
For TapNLink pricing and availability, contact IoTize here.