Tapioca - LoRa, NFC, Bluetooth, Wi-Fi to Ethernet, RS485 adapter
Tapioca LoRa, NFC (Type 5), Bluetooth, Wi-Fi wireless adapter for connection of mobile devices and networks to electronic systems via Ethernet and RS485 fieldbus. IP67 casing. Supports Modbus.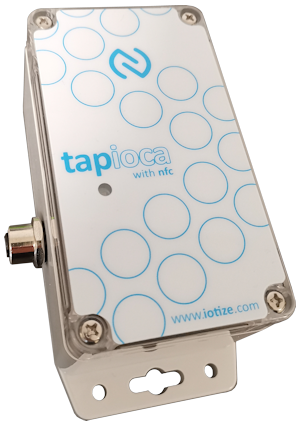 Tapioca allows industrial systems to send data to mobile devices or to be networked by providing plug-and-play, configurable NFC, Bluetooth (BLE) and LoRa wireless interfaces that connect on any accessible Ethernet or RS485 Modbus port. Tapioca integrates with, and is powered by the target system.
All Tapioca products are easily configured for secure connection with mobile devices and encrypted data transmission. With our Automatic App Generator, Tapioca facilitates rapid creation of human-machine interfaces (HMI) that run on Android, iOS and Windows-based mobile devices.
Key Features
Wireless Channels
LoRa
Near Field Communication (NFC) Type5 tag (ISO/IEC 15693)
Bluetooth Low Energy (BLE) 4.2
Wi-Fi (802.11 b/g/n)
Supported Wire Connections
Ethernet (802.3)
RS485
Modbus
Mobile Platform Support 
HTML5 generic applications
Automatic app generator (iOS, Android)
Cordova API (Android, iOS, Windows 10) or Android native (Java)
Security
Configurable access profiles
Configurable, encrypted passwords
AES-128/256 module-level data encryption
Configurable secure pairing with NFC
Casing 
IP67 plastic casing.
Dimensions: L 115mm x  H 65mm x W 55mm
Weight (without cables): 240g
Electrical Characteristics
Input voltage: 5V to 30V
Power consumption: from 15.2mA to 100mAH at 12V DC
Standby mode: 4 - 5.8mA at 12VDC
Operating Temperature Range
Compliance
CE (Europe), FCC (USA), IC (Canada).
REACH
RoHS
WEEE
Ordering Information
Base Part Number: TpC-PE1M123
MOQ: 1
Price includes:
Tapioca LoRa, NFC, Bluetooth, Wi-Fi to Ethernet, RS485 fieldbus adapter pre-programmed and ready to configure
IoTize Tap Toolbox Serial/Modbus utility app for Android and iOS mobile devices
IoTize Studio configuration and testing software
Automatic app generator (iOS, Android)
IoTize Cloud MQTT infrastructure (open source)