TapNLink NFC
TapNLink NFC (Type5) module for local connection of mobiles to microcontroller-based electronic systems.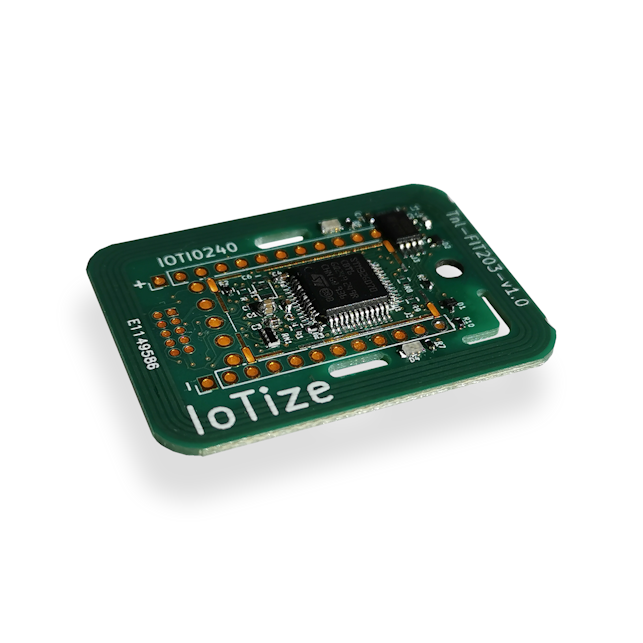 The TapNLink Duetware-based NFC modules provide a contactless interface for linking mobile devices to equipment and appliances. Using TapNLink NFC 3-stroke configuration, users interact with appliances from an app on their mobile in three intuitive steps: 1) tap to launch the app and retrieve current parameters, 2) modify parameters in the app, and 3) tap again to update the parameters.
TapNLink connects directly to a systems' microcontroller or circuitry. Thanks to TapNLink's power optimization and Energy Harvesting mode, it can be powered either entirely by a mobile device during NFC communication, or by the target system's power supply.
All TapNLink products are easily configured to control access to data in the target system by different types of users. With our Automatic App Generator, TapNLink facilitates rapid creation of Human Machine Interfaces (HMI) that run on Android, iOS and Windows mobiles. These HMI apps are easily customized for different users and can be deployed and updated easily to keep pace with evolving system requirements and user needs.
Key Features
Wireless Channels
Near Field Communication (NFC) Type5 tag (ISO/IEC 15693) supporting

Bi-directional proximity communication with mobiles
Power by Energy Harvesting from the mobile
Supported Target Connections
Serial interface with Software Secure Serial Port (S3P) protocol
Serial interface with ARM SWD debug protocol
UART with Modbus protocol
Mobile Platform Support 
HTML5 web apps (Android, iOS)
Ionic / Cordova app generator (iOS, Android)
Cordova API (Android, iOS, Windows 10) or Android native (Java)
Security
Configurable access profiles 
Configurable, encrypted passwords
AES-128/256 module-level data encryption
Configurable secure pairing with NFC
Mechanical Charateristics
Dimensions: L 38mm x W 28mm x  H 3mm
Packaging Options
Bare board (default)
Optional ABS plastic casing (IP44)
Optional silcone resin (IP65)
Electrical Characteristics
Input voltage: 2.3V to 3.6V
                   Typical               Energy Harvesting*
Standby:      1 µA                                0
Tx/Rx:          1 mA                               0

* Up to 3 mA can be relayed to the target application during energy harvesting from an NFC mobile device.
Temperature Range
Compliance
CE (Europe), FCC (USA), IC (Canada).
REACH
RoHS
WEEE
Ordering Information
Base Part Number: TnL-FIT203
Unitary Price:          contact us for pricing
MOQ: 20 modules
Prices include:

TapNLink modules pre-qualified, pre-programmed and ready to configure
IoTize Studio configuration and testing software
Software for HMI on mobile devices (iOS, Android, Windows 10)
IoTize Cloud MQTT infrastructure (open source)