Bluetooth Low Energy & NFC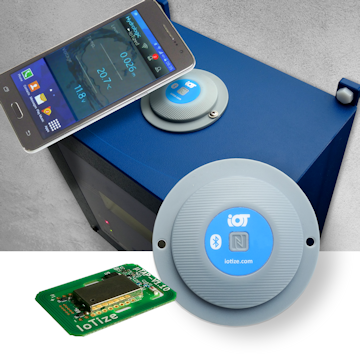 TapNLink Modules with Bluetooth & NFC for instant integration and HMI on mobiles
All TapNLink standard modules support rapid integration with:
Qualified, turn-key wireless design
Immediate HMI on mobiles
Customization by configuration
Rapid Cloud integration
The TapNLink products below implement Bluetooth Low Energy (BLE) with Near Field Communication to ease and secure connection of mobiles with equipment or appliances. Standard modules can be purchased directly, online in packages of 20 and 160 modules. For larger quantities contact us for pricing and availability.
The TapNLink NFC-only modules are also available for 3-stroke configuration of target equipment and appliances.
Want to try out TapNLink?
Try TapNLink Primer BLE-NFC evaluation kits...
Try TapNLink with Ionic HMI App Generator...
Create mobile HMI apps for iOS (IPA) and Android (APK) without writing a line of code. A free edition of the HMI App Generator is available to all users of TapNLink wireless modules. Try it, it's robust, easy and immediate! Learn more here...
TapNLink Bluetooth Modules & Key Features
 
Wireless
Protocols
LPWAN
Protocols
Wire
Protocols
Modbus
lwM2M
JVM
Power Consumtion
(Idle)

Typical Uses

Availability
TnL-FIR203
NFC, BLE
 
S3P, SWD, UART
20 mA
(80 µA)

   

TnL-FIR103
NFC, BLE
 
S3P, SWD, UART

20 mA

(80 µA)

   

TnL-FIW103
NFC, BLE, Wi-Fi
 

S3P, SWD, UART

180 mA

(80 µA)

     
TnL-FIL113
NFC, BLE
LoRa
Ethernet

40 mA

(0.4 µA)

   

  
   Yes          
   No          
   NFC 3-stroke configuration             
   Configuration         
   On-site monitoring         
.  Remote Supervision
Not sure what product you need?  Contact us today for a personal demonstration...
---