Create Industrial HMI Directly on Your Mobile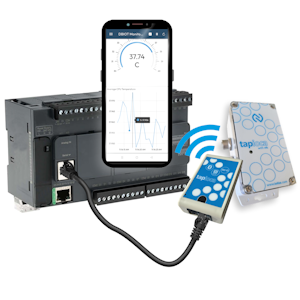 Tapioca and the Tap Manager app for Android and iOS lets you create custom human machine interfaces for industrial maintenance directly on a mobile phone.
Barcelona, Spain, 25 January, 2023 -- Today IoTize SAS introduced its new Tap Manager app for creating custom industrial human-machine interfaces (HMI). Used with the Tapioca Modbus-wireless adapters, this new app makes it possible to create customized user interfaces directly on a mobile phone.
To create their custom HMI, technicians simply connect Tapioca to the Modbus port of the equipment and configure the wireless adapter using Tap Manager on their mobile phone. There is no code to write and there are no expensive tools to purchase.
Tap Manager lets technicians represent data from their equipment in graphical form as charts, gauges, or values. They can create controls such as buttons, sliders, and switches to configure an equipment and control its features directly from the app. With Tap Manager, organizations can rapidly retrofit industrial systems and create customized user interfaces that dramatically improve the efficiency of commissioning, testing and servicing.
Tap Manager is available now at Play Store for Android and App Store for iOS.
A wide range of Tapioca Modbus-wireless adapters are available today from IoTize and authorized distributors. Tapioca offer a range of wireless technologies including Near Field Communication (NFC), Bluetooth Low Energy and Wi-Fi for connecting mobiles to industrial equipment.
Tapioca users benefit from a host of automation, security and data handling features that are pre-implemented in the device's firmware. These include dynamic encryption, configurable access control and NFC automated pairing of Bluetooth and Wi-Fi devices. These features improve the security, ease and efficiency of using wireless channels to connect smartphones to industrial equipment.
Create Your Custom Mobile HMI with Tap Manager
Want to create your own human-machine interface for servicing your park of industrial equipment?
Tap Manager eliminates the coding and expensive tools required by other solutions. Just install the app and add a Tapioca Modbus-wireless adapter to your equipment. Retrofitting takes just minutes. Creating your HMI takes even less!
In no time, you'll have a custom HMI that launches automatically every time a user connects to your machines. Plus, you can modify the HMI at any time. Evolve your HMI to meet changing needs and ensure that your technicians have visibility of data that eliminates human errors and makes maintenance tasks more efficient.
See how it works in this short video...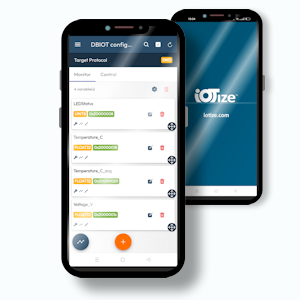 Pricing and Availability
Try the New Tap Manager with instant configuration and HMI creator on Play Store and App Store. The app is provided free to all users of IoTize wireless devices and modules.
For Tapioca Modbus-wireless adapter pricing and availability, contact IoTize here.