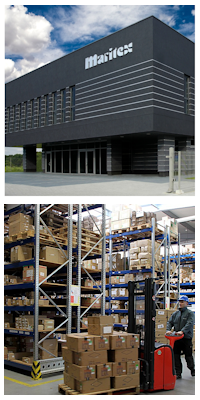 Maritex Leszek Losin Sp.k. (www.maritex.com.pl) was established in 1987 and is currently one of largest, fast developing wholesalers of electronic equipment on the Polish market.
Maritex is a reseller for renowned worldwide companies and has long-term experience in selection of manufacturers to ensure timely and renewable deliveries of top quality components at competitive prices. The company offers a wide range of components including: semiconductors, passive components, LEDs, LCD, TFT, OLED and VFD displays, gas and ultrasonic sensors, buzzers, industrial computers, m printers, switches, relays and a wide range of connectors.
Maritex 3500 m2 warehouse in Gdynia Poland, serves clients across and central Europe including Poland, Germany, Great Britain, Russia, Spain, Belarus, Lithuania, Ukraine, and Romania.
The company maintains quality certifications that include: ISO 9002 Quality Certificate (in 1999), ISO9001:2001 Certificate of Quality System No. 285/3/2003 (in 2003), and ISO9001:2008 Certificate of Quality System No. HU11/5851 (in June 2011).
Contact
Damian Weisbrodt
Product Manager
d.weisbrodt@maritex.com.pl
Tel: +48 58 662 05 34
Available from Maritex