Tap Manager: No Code Mobile HMI Solution
About this Demo Video...
Create user interfaces for any electronic system directly on a smartphone. It's easy and quick with Tap Manager. Connect a TapNLink wireless module to your STM32 microcontroller. Then, configure TapNLink directly on your mobile device.
Test ideas for human machine interfaces for monitoring performance, configuring system parameters, or for controlling the system during operation! There is no coding to do. The results are immediately visible on your phone.
Get TapNLink wireless modules worldwide Digi-Key, Elektor Store, Mouser or any of our regional distributors.
Get Tap Manager-Beta today on Play Store.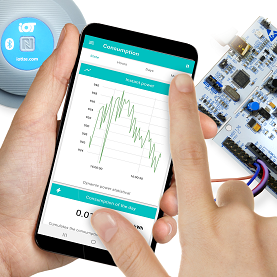 Products in this Demo...
Need more advanced control or your HMI or need to create your own app?
Creating an HMI is with Tap Manager is fully compatible with our Automatic App Generator - our professional, server-based design tool for creating Android and iOS apps. The HMI is based on your TapNLink configuration. All you do is set the graphical display options for the variables in your electronic design. The rest is done by the Auto-App Generator.
The Automatic App Generator outputs a mobile app (APK, IPA) that you can use ot test your HMI immediately on a smartphone. It also outputs an app project that you use to finalize the settings for Play Store or App Store and further personalize the look and feel of your app. Then you generate and publish your final app.
More information about Auto-App Generator...